Hi!
I'm currently triying to perform radiometric calibration on my Sequoia images
I use the Parrot Sequoia ground-based at 2 meters high from the vegetal cover (without drone).
The image sensor is directed perpendicularly to the surface. The sunshine sensor is directed at the opposite (Nadir).
I'm now able to compute:
-Image sensor Irradiance Isq ( See Parrot Announcement - Release of application notes for more information.
-Sunshine sensor irradiance Iss thanks to this very clear document: https://onedrive.live.com/?authkey=!ACzNLk1ORe37aRQ&cid=C34147D823D8DFEF&id=C34147D823D8DFEF!15414&parId=C34147D823D8DFEF!106&o=OneUp
The methodology is discussed too in topic "Reflectance estimation" Post2 by @domenzain.
I know there is a relation between Isq and Iss, and reflectance R: Rcos(theta)=K*Isq/Iss
In my case, we have Theta=0 so cos(Theta)=1 because we use the sensor perpendicularly to the surface, without angle of view. Is that true? Or Theta means an other angle?
K is a constant that depends on sensors responses.
To obtain K, we can use a calibration target of known reflectance. That's not a problem for me but there is something I don't understand. K should be constant, so we should only need to use the calibration target once and not everytime we want to use the Sequoia, right?
One other thing, I read on Micasense tutorial (MicaSense Image Processing Tutorial 3) that Sun angle and Types of irradiance(direct or diffuse) should be taken into account too for radiometric calibration. Is that really necessary to obtain acceptable results if we use the sunshinesensor? If yes, How to apply these correction?
I saw @pk123 nice experiment in this topic (Details of Irradiance List tag for Sunshine sensor in exif data of Sequoia - #21 by domenzain)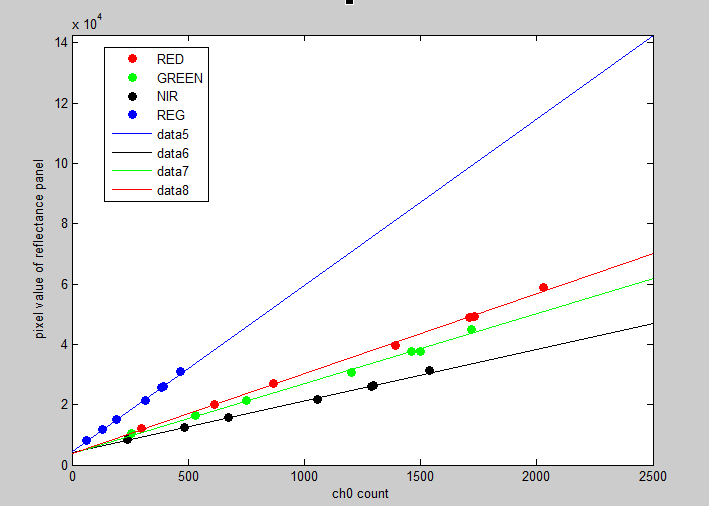 I would just like to know if this linear relation between sunshine and image sensor irradiances still functions when sun is above (zenith) or in cloudy conditions…
Before posting, I've read much on this forum and micasense tutorials. If my questions have already been answered somewhere, don't hesitate to redirect me to them and I'll close the topic.
If you have questions about the methodology I presented above, don't hesitate too.
Bye, have a good day